Celebrating 20 years in Kumeu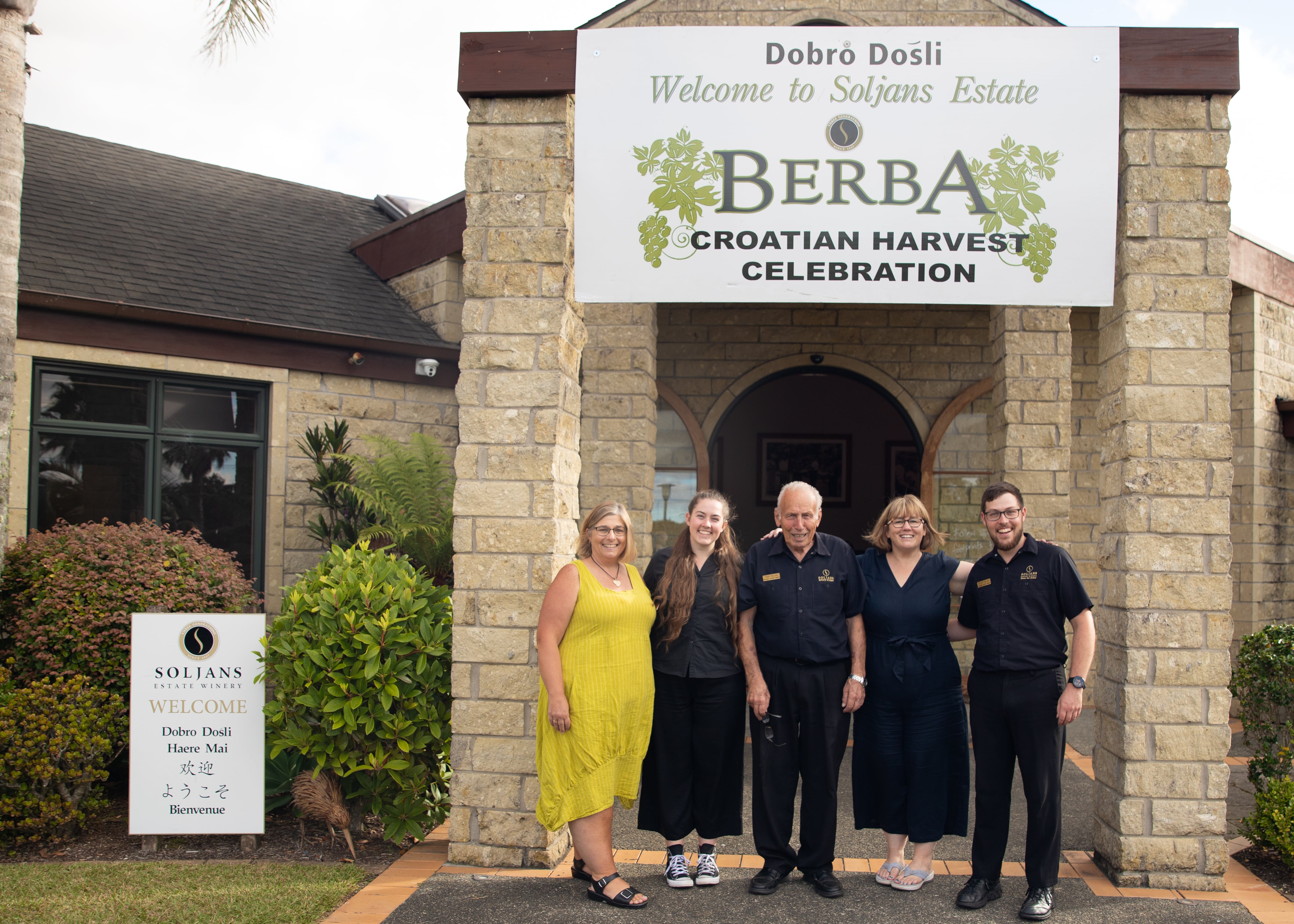 The Soljan family first started making wine in 1932 under Bartul Soljan's Pergola Wines label back on Lincoln Road, with Soljans Wines first establishing a name in 1937. In those early days there were over 80 wineries in Henderson, mostly of Croatian heritage, and we all helped to build the New Zealand wine industry to what it is today.
As Auckland City continued to grow and expand, many wineries chose to leave Lincoln Road for other parts of the country, or just closed altogether. When faced with these two options, we decided to remain in Auckland and, in 2002, built a new winery complex in Kumeu. This was a very challenging time and Tony led the team to complete the build in just 12 weeks from start to finish. This year marks our 20th year in Kumeu, and we couldn't be more proud of our time in this great community.
When opening our winery 20 years ago, we took the opportunity to expand into hospitality with our restaurant, hosting visitors from all over the world for lunches, celebrations, weddings and the like. This was always a dream of Tony's to have our guests enjoy our award winning wines with top quality food. This was celebrated internationally when we were included in Canadian Wine Access Magazine's Top 20 Winery Restaurants in the World, a great achievement we are extremely proud of. Over the last 20 years we have welcomed a great number of people through our doors and have cemented our place in Kumeu history for years to come.
We have seen lots of growth in our company and family over the past two decades, as well as in the local area. We started hosting Berba, a Croatian harvest celebration, each year to recognise the work of vintage and bring people into our winery to show them the winemaking process from start to finish. This has been an important event in Kumeu since opening and is loved every year by many. We have seen the fifth generation of our family, Tyler and Amber, grow from kids running in the vines to an integral part of our business today. With the launch of our Fifth Generation Kumeu Chardonnay, we celebrated both our family's dedication and passion for wine, along with Kumeu as a wine region. This wine has grown over the past few years to be our most highly awarded wine and we couldn't be more proud of this achievement, helping to promote Kumeu as a premium wine-growing region in New Zealand.
Of course we couldn't look back over the last 20 years without Covid-19 making an appearance. We noticed the impacts immediately, and we had to adapt quickly to make changes where necessary to ensure we survived as a business. It was a challenging time for everyone and we took the opportunity to rebrand our onsite restaurant to The Bistro at Soljans. We also started a successful venture hosting themed dinner nights, taking inspiration from all over the world to showcase top-quality cuisine. We have received immense support from our local community during this time, without which we wouldn't be in the position we are today.
Currently, we are positively looking ahead to the upcoming months and will continue with many of the changes Covid-19 brought on, including our themed dinners. We have further celebrations planned next month, with our 85th vintage as Soljans Wines along with 95 years of our family being in New Zealand. We continue our 20 year celebrations all through August with special food pairings for each of our Kumeu wines in The Bistro, along with 10% off our Kumeu wines in our cellar door and online. A great opportunity to come and try the very best we have to offer.
We look forward to welcoming you through our doors in the coming months and cannot wait to see what the next 20 years in Kumeu has to bring.
Come. Sip. Enjoy.
Story By Tyler Soljan