Looking after our wildlife during winter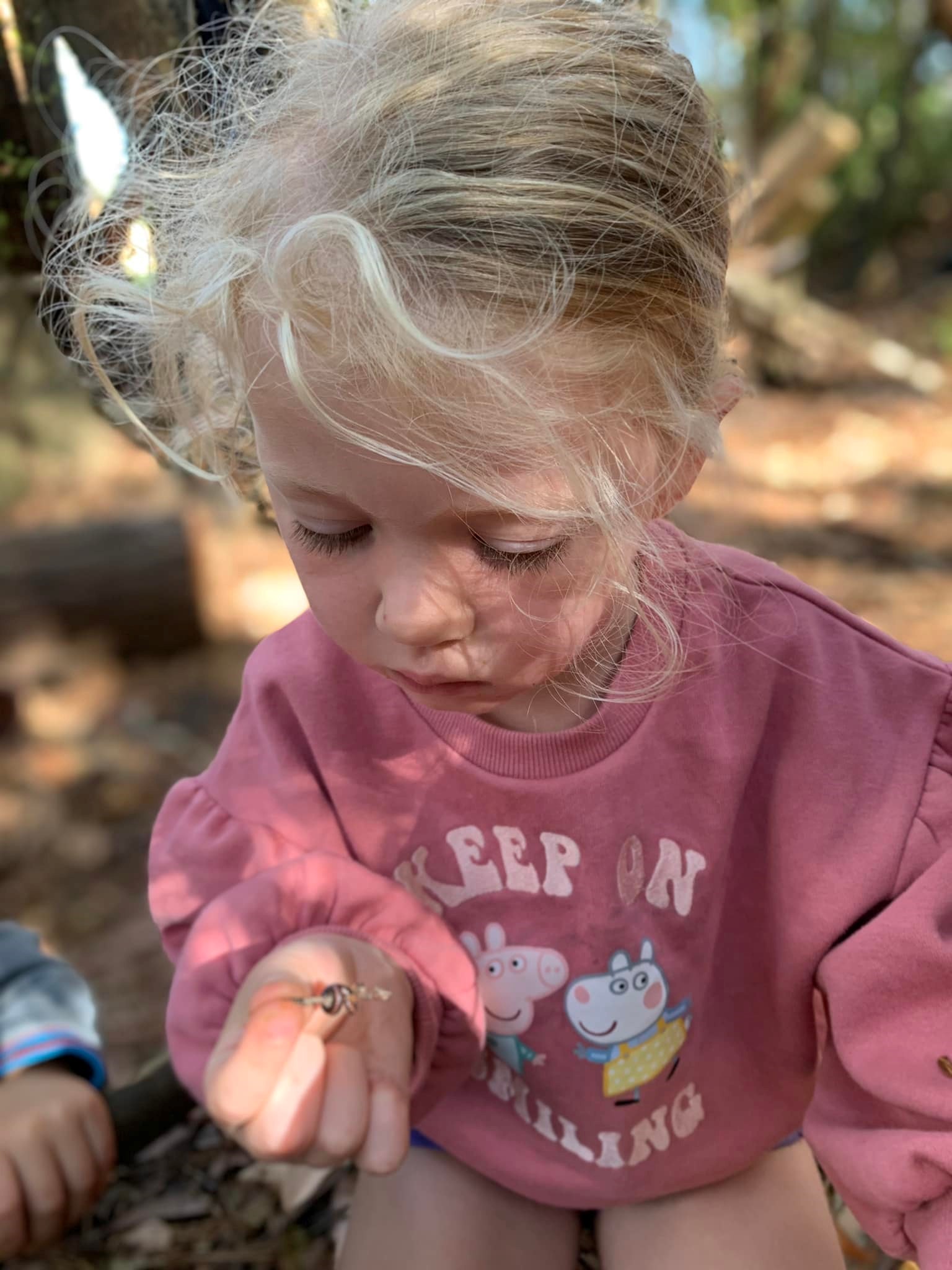 Country Bears philosophy emphasises nature as a vast and wonderful classroom, encouraging empathy and respect to all living things through relationships and connections to Papatūānuku (Mother Earth).
As the seasons change, our tamariki (children) are noticing differences in flora and fauna, and the absence of wildlife, particularly native birds, in our forest.  Through conversations and an interest in finding out more, teachers and children embarked on a collaborative learning journey.  We discovered that for some wildlife, natural food sources are limited.  Birds must maintain a specific body temperature and need extra energy to get them through the winter.  To help our wildlife access the energy they need during these winter months, the provision of food and sugar water stations helps supplement food supply.
One of the childrens' (nga tamariki) favourite activities is to make bird feeders, using pinecones collected from our forest, coating them with peanut butter and then rolling them in a specialised bird seed.  We use the Topflite Birdseed, which contains energy-rich seed, fruit and nectar, and is balanced with vitamins that are tailored to meet the nutrition requirements of different bird species.  After securing the pinecones with twine, children hang them from trees and wait for the birds to come!  Children get an added bonus by getting to lick the peanut butter off their fingers and hands!  Yum!
Learning is a lifelong journey for everyone, and we were reminded of this as we gathered further information on appropriate nutritional supplements for birds.  Forest & Bird recommend using nectar and fruit as a supplement for native birds and explain that seeds and grain are attractants for introduced birds, who out-compete our native feathered friends.  Having instant access to reliable resources and information is advantageous, as it brings learning to life, and life to learning.
Learning is a lifelong endeavour, and as teachers, we are constantly learning from others – some who may have expert knowledge about subjects, and also those who have a different perspective of the world, like children.  They naturally invite us into their awesome world as they question, explain, and describe 'how and what things are'. 
Our Elements of Life Programme enhances learning by inviting children to experience the rich diversity and wonder of an authentic outdoor environment.  This is Country Bears Nature Learning.  Our inquiry-based, emergent curriculum incorporates environmental practices and exploration through nature within the daily programme, which supports our vision of children becoming confident and competent by learning in and through nature. 
Through our nature-based curriculum, we provide daily educational experiences for tamariki to develop awareness and understanding of the natural world around them. As they engage in meaningful contexts, they form 'working theories' – knowledge of the world according to previous understandings and experiences.  What better way to learn about the world, than to be immersed in its grandeur!
We provide daily educational experiences for children to be deep in hands-on activities that foster meaningful connections to a nature based curriculum, which helps to build the foundation for a love of learning; developing an understanding and awareness of the connections between people, places and things in their world (te waihanga hononga).
If you would like to visit our wonderful Centre, designed to provide the children space and time to develop at their own individual time, give us a call on 09 412 8055 to arrange a suitable time.  In the meantime, check out our website www.countrybears.co.nz or our facebook page: www.facebook.com/cbearsecc
Country Bears Early Childhood Centre, 79 Oraha Road, Kumeu, phone 09 412 8055.