Pest Free Kumeu-Huapai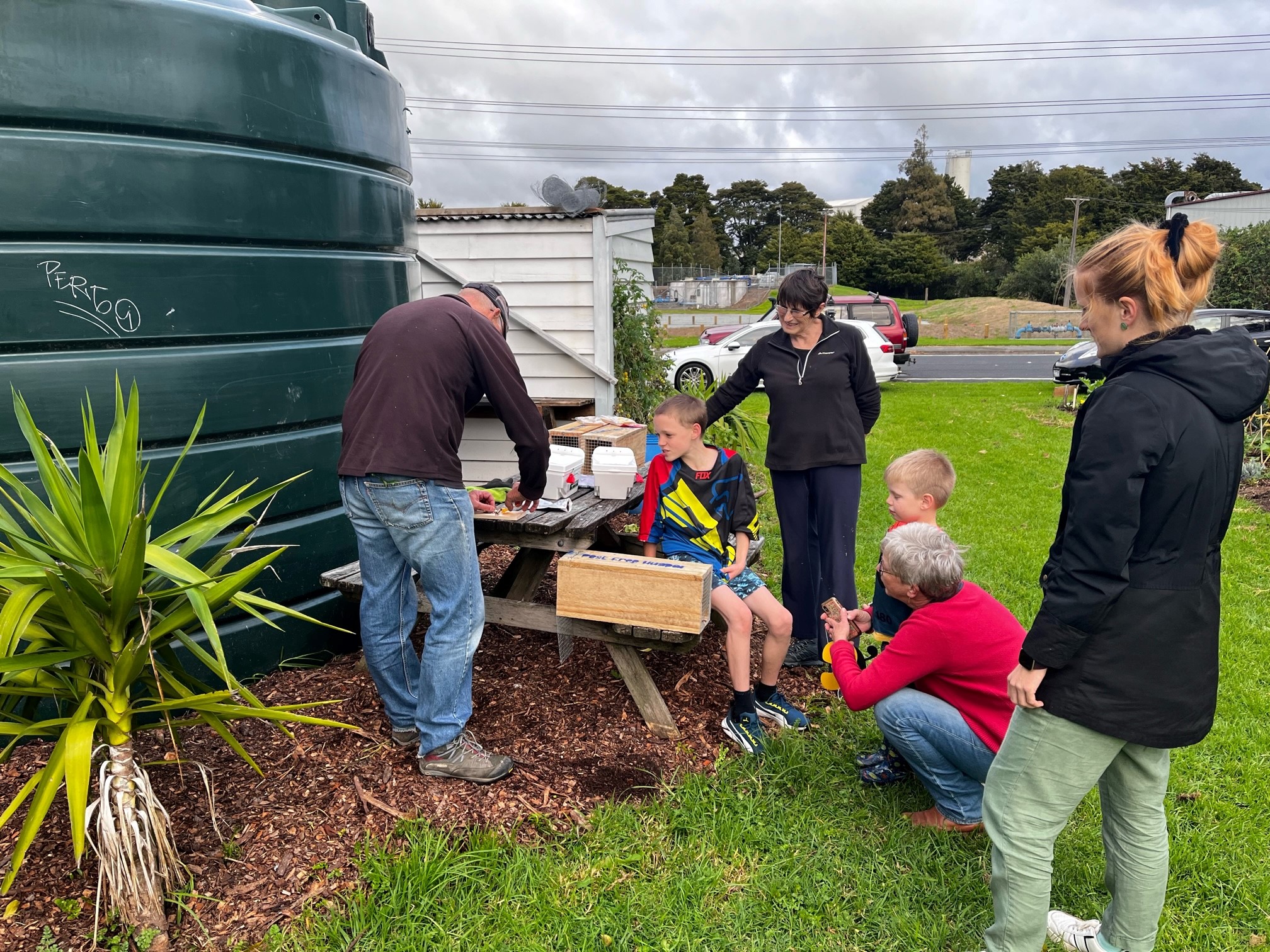 So we've made it into winter and all the rats and mice that like living warm and dry are now somewhere inside your house, garage or shed.  Unless you knocked them off over autumn with traps and bait.
It's been a busy few months for Pest Free Kumeu-Huapai and we're starting to make some real progress.  With help from Shona Oliver and the Council we've built and distributed over 65 rat tunnel traps (shout out to the good people of Boord Crescent who purchased 20 traps across 7 properties).  We held the kick-off meeting in March that generated a whole lot of interest and ideas.  The Facebook site has over 130 members, and Tracey Watts was crowned inaugural 'Pest Free Kumeu-Huapai Trapper of The Month'.
We have a fledgling 'weed walkers' group that is already removing weeds along the river near Atlas Concrete and we now have 7 traps running at the Kumeu Community Garden to prevent pests from stealing their crops.
We also have a variety of traps on display and information about trapping at the Kumeu Garden Hub.
One of the most important concepts of Predator Free 2050 is backyard trapping.  Since the majority of NZ is made up of private land, the action you take as property owner is crucial to control predators and pest plants on your property.  The idea of Pest Free Kumeu-Huapai is to help you with that.  To that end we have available for you:
• $5,000 of funding from Predator Free 2050 Ltd. for backyard trapping
• A 20% discount with the good people from Envirotools traps (use the code PFKumeu at www.envirotools.co.nz )
• A 1:1 deal with www.Goodnature.co.nz  on their A24 traps (for each self-resetting A24 rat trap purchased by the group, Goodnature will give 1 trap to the community).
Goodbye Rats, Possums & Stoats | Automatic Non-Toxic Traps
We want to see New Zealand's critically endangered species flourish again. This means getting on top of a bunch of pests – rats, stoats, possums and mice for starters. That's why we develop pest traps that reset themselves, are toxin free and humane which can be used in living spaces through to wild places.
www.goodnature.co.nz
All this activity is to help reduce or eliminate pests in our community and bring those gorgeous birds back.  Eliminating predators and weeds is not something 'The Government' or 'The Council' is going to do for you - this is your community, it's your property and it's up to you to act.  Pest Free Kumeu-Huapai is simply a network of people who want to make a difference in whatever way we can - and if that means checking a rat trap in your backyard every couple of days, that's perfect!
Next up we'd really like to get a 'trap line' going along the Kumeu river - if that sounds like something you'd like to help with, get in touch.
If you'd like to get involved or want to find out how to get one of those trap deals, email jeremy@jeremydean.com or search for the 'Pest Free Kumeu-Huapai' Facebook page.
Pest Free Kumeu-Huapai
Kīrearea haepapa Kumeū-Huapai This is a community group with a goal to rid the Kumeu-Huapai area of introduced predators (rats, possums, mustelids) and... www.facebook.com.